Home
Selectively using what we believe to be the best available Australian and Imported stud dogs we aim to breed German Shepherd Dogs of correct type, with strength, rich colour, good pigment, and most importantly of sound temperament.
Member of Dogs NSW and GSDCA participating in their Hip and Elbow Schemes and adhering to their Code of Ethics.
We have received our GSDCA Bronze and Silver Medals for breed soundness.
Breeders of Class, Best of Breed, Group and Class in Show winners under Local and International Judges. Breeders of Multi Excellent Graded dogs, Australian Champion, Dual Champion dogs that excel in obedience, agility, assistance dogs, tracking and faithful family companions.
Colin was in a group of six Junior NCO's who in 1973 were the first Australian Army Guard Dog Handlers and had a German Shepherd as his dog. This began his love affair of German Shepherds. Shirley had her first German Shepherd in late 70's and once we met and bought our first home buying a German Shepherd and a Burmese Cat were our first priorities. Shirley is also Ex-Service and we offer a discount to ALL who have served or are still serving in ADF as a token of our appreciation for their service.
Holding deposits normally refundable but at the discretion of the Breeder.
DOGS NSW Member 2100033184. Please contact DOGS NSW on email: info@dogsnsw.org.au to verify our membership
NSW Pet Registry Breeder Identification Number is B000617593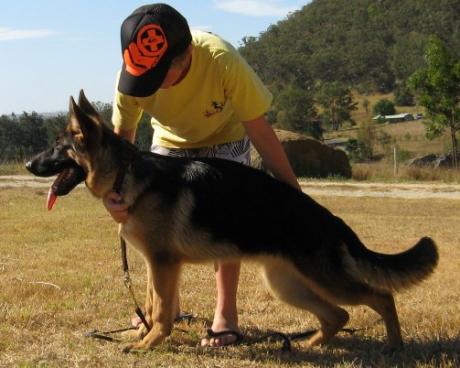 Proud sponsors of all Junior Handler Classes at the National from 2005-2012, in 2017 one class and in 2019 we again sponsored ALL three classes
Due to the amount of spam, fraud and scams circulated through hotmail, gmail, yahoo etc we will NOT respond to any enquiries generated from these sources. SMS will not receive a response. Our apologies for any inconvenience this may cause to genuine persons.
Takimbre makes a small fortnightly donation to Young Diggers and Wounded Heros to support their work helping Veterans' and therefore their families. They are manned by unpaid volunteers unlike Soldier On who have paid Directors and staff. If you support our Veterans' and appreciate their Service to Australia then please consider giving Young Diggers and/or Wounded Heros your financial support.
Copyright©Takimbre German Shepherds 2023. All Rights Reserved